Executive Management
Steve White (Sr. Partner)
Joined DDS Rescue in 2011 as Vice President and brings over 40 years of experience in the dental industry with extensive knowledge of product development, engineering and manufacturing disciplines. Steve is a nationally known lecturer and author in the fields of business continuity, ergonomics, office productivity, fatigue reduction and sterility assurance.
Rob Reisley (Sr. Partner)
Rob is a veteran private equity investor and operating executive with a 30+ year track record in healthcare, business services, niche manufacturing and software. Over his career, he served on the boards of numerous private companies and on the Association of Corporate Growth board in Philadelphia. He earned an MBA from the Wharton School.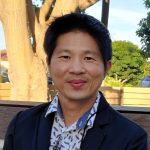 Kai Tantiratpisan (Director of Tech Support)
Kai has been providing technical expertise to DDS Rescue customers for the past seven years. He has over 15 years experience in IT. In his free time, he relaxes by training Bonsai, gardening and watching soccer and rugby.
Tom Jacobsen (Chief Compliance Officer)
As the COO of one of Forbes Top 100 financial planning firms in the country for 13 years, Tom was responsible for all aspects of the business–
managing relationships with high net worth clients, data security and overseeing all technology requirements for the firm. Tom moved from
Denver, Colorado to Madison, Mississippi in 2020 to establish DDS Rescue in the Southeast. He's passionate about service and is dedicated to simplifying OSHA and HIPAA compliance for our clients.
Advisory Board
Kezia Josenberger, JD
Kezia is currently a Senior Privacy Counsel at Verily Life Sciences, sister company to Google, and an Alphabet company. Before joining Verily, Kezia was the Head of Compliance and Privacy Officer for Uber Health, and HIPAA Privacy Officer for Uber Technologies, Inc. She has almost 20 years of progressive experience in healthcare privacy and compliance, digital health and health IT, privacy management and data governance.
Her experience includes managing compliance and privacy programs at Centene Corporation; serving 10 years at the Office for Civil Rights, the agency within HHS that oversees HIPAA compliance and enforcement, as a Supervisory Equal Opportunity Specialist and HIPAA Team Lead; and providing thought leadership to major healthcare and life sciences clients as a consultant at Ernst and Young. Kezia is licensed to practice law in Arkansas and Georgia and is registered in-house counsel for the State of California. She is certified in healthcare compliance and healthcare privacy compliance from HCCA and in U.S. privacy law and regulations from IAPP. She also holds a certification as a data privacy solutions engineer with ISACA and she is a member of the Regulatory Affairs Professional Society where she obtained a dual certificate in Medical Device and Pharmaceutical Law.


Dr. John Flucke
Dr. John Flucke is in private practice in Lee's Summit, Missouri where he spends four days per week in direct patient care. He also serves as Technology Editor for Dental Products Report magazine as well as Chief Dental Editor where he writes, edits, and does video demos of products featured in his "Technology Evangelist' columns. Doctor Flucke has one of the most popular dental blogs on the Internet "Ramblings of Dentistry's Technology Evangelist " featuring daily updates on technology in healthcare and technology in general. The site has over 2 million unique page views. He lectures extensively on all aspects of clinical dentistry as well as technology in dentistry and has been featured at every major dental meeting in the U.S. and international locations as well.
Dr. Flucke uses technology in every aspect of his practice and personal life; pushing himself to constantly be on the leading edge. He loves testing, and breaking, the latest gear he can get his hands on. He lives his life by the motto "you can't have too many toys." He consults with manufacturers helping with development of techniques, technologies, and products which allows him to see things from the "duct tape and zip tie stage" all the way through to the completed item.
Dr. Flucke's passion is "Technology that Improves Patient Outcomes" and he is always working to create or to help create products and techniques that allow patients a better quality of life. He is a past president of the Greater Kansas City Dental Society as well as serving as the Missouri State Peer Review Chairman.


Dr. Martin Jablow
Martin Jablow, DMD is a clinician, speaker and author. He presents and publishes worldwide on many topics, including state of the art dental technology and dental materials. His recurring columns can be found on DrBicuspid.com and Dental-LearningHub.com's Apex Magazine. Dr. Jablow is president of Dental Technology Solutions, a lecture and consulting company. He is an active member of the ADA, NJDA, Middlesex County Dental Association and has achieved Fellowships in the AGD and International Academy of Dental Facial Esthetics. Dr. Jablow serves on the Dentalcompare CE Advisory Board along with the Eco-Dentistry Association Advisory Board. For over 20 years, he has been a member of his local peer review and was an attending at the JFK Medical Center in Edison NJ, where he worked with patients and trained residents. As the Internet has grown so has Dr. Jablow's online presence with his dental blog, webinars and as host of TakeFiveWithMarty.com.


Dr. Ross Nash
Dr. Nash is an iconic authority in cosmetic and esthetic dentistry and has helped pioneer many of the materials and modalities commonly used today. His numerous lectures to dental professionals around the world have solidified his reputation as an entertaining educator. His thriving dental practice in Charlotte, North Carolina provides Dr. Nash with excellent "real-world" information and everyday stories to share with his students.


Dr. Greg Grillo
Dr. Greg Grillo serves as Clinical Advisor for DDS Rescue. He is a dental network security and marketing expert. He is currently practicing dentistry in Omak, Washington. Born and raised in the Okanogan Valley, Dr. Greg enjoys being part of this unique corner of the world. He spent eight years at the University of Washington, receiving a bachelor's degree with Honors before attending dental school on the same campus. Selected for a Health Professions Scholarship by the U.S. Navy, Dr. Greg then served in the USN as a dental officer for four years. He received advanced training in multiple specialty areas of dentistry while also treating families of squadron military members overseas. After tours of duty in South Carolina and Japan, and over 300 hours of additional formal education beyond dental school, he returned home in 1999 to join his father, Dr. Jerry Grillo. He especially enjoys caring for growing families in his practice, and incorporating technologies that enhance the patient experience while taking numerous continuing education courses on all aspects of dentistry. He and his wife, Lisa, have three children and are involved in a variety of community activities in the Omak area. Outside the office, he can be found snow skiing, hiking, playing tennis, or just enjoying the outdoors.


Ray Dillon
Though you might peg him as a "computer nerd," Ray Dillon refers to himself as a "technology aficionado." Ray is the founder and President of Dillon Dental Networks. He loves complex computer systems and is passionate about network security, dental software and training. It's an interesting hobby, we know, but his love for dental IT and security is your practice's gain. Ray is not only an IT and computer security expert, he's well-versed in dental software such as Dentrix and Carestream.
Contact us for more information about our services
Or fill in the form below